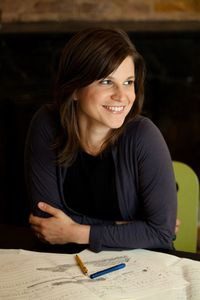 Email: sf1357@hunter.cuny.edu
Office: Room 407 Hunter North
Phone: 212-772-5026
Fall 2017 Office Hours: abroad on Rome Prize fellowship 2017–18
Suzanne Farrin's music explores the interior worlds of instruments and the visceral potentialities of sound. Her music has been performed by some of the great musicians of today on stages across Europe and North and South America.
Tim Page, the former classical music critic of the Washington Post wrote: "If you can imagine the dense, perfumed chords of Messiaen's piano music combined with the clangorous, insistent, near-pictorial tone-clusters of Frederic Rzewski's Winnsboro Cotton Mill Blues, you will have some idea of what Farrin's work sounds like. Yet it transcends its derivations to leave the distinct impression of its own."
Her music has been featured at venues and festivals such as Mostly Mozart, Matrix, Alpenklassik, Music in Würzburg, BAM NextWave, Theaterforum (Germany), Town Hall Seattle, Carnegie's Weill Hall, Symphony Space, the Walker Art Center, SALT (Victoria, BC), Festival Nuevo Mundo (Venezuela) and New York's The Stone, Spectrum, Subculture, Miller Theater, Merkin Hall, Joe's Pub, among many others. She has been supported by organizations such as the Philharmonia Society of Bremen, the Rockefeller Foundation, Meet The Composer, the Wachovia Foundation, Concert Artists Guild and New Music USA. Musicians and ensembles who have interpreted her work include the American Composers Orchestra, The League of Composers Orchestra, the International Contemporary Ensemble, the Arditti Quartet, So Percussion and soloists Leonard Elschenbroich (Germany), Ksenija Sidorova (Latvia), Antoine Tamestit (France), Joshua Rubin (USA), Derek Bermel (USA), Kyle Armbrust (USA), Nuiko Wadden (USA), Ben Melsky (USA), among many others.
In addition to composing, Suzanne is a performer of the ondes Martenot, an early electronic instrument created by the engineer Maurice Martenot in France in the 1920s as a response to the simultaneous destruction and technological advances of WWI. She will perform a solo recital at the Abrons Art Center in NYC in March 2016 that will feature new works by herself and composers Sean Harold (USA), Lars Peter Hagen (Norway) and Sabrina Schroder (Canada), as well as established works by Alvin Lucier and Oliver Messiaen. In 2015 she was a semi-finalist in the Margaret Guthman Musical Instrument Competition at Georgia Tech and a soloist with the Farnorth Collective in Greenland, which included a performance of Messiaen with Heiner Goebbels (Germany).
She is currently composing a monodrama on the love poetry of Michelangelo commissioned by the Metropolitan Museum of Art and the International Contemporary Ensemble. Dolce la morte, will be premiered at in the Vélez Blanco Courtyard at the MET Museum in April, 2016 and will feature MET counter tenor Anthony Roth Costanzo. In the fall she will collaborate with sound artist Jacob Kirkegaard (Denmark) on a new work for ondes Martenot and live electronics (Ondes Corti) that will be premiered at the opening for the 2015 Gothenburg Art Biennial. The materials of this new work are derived from recorded spontaneous otoacoustic emissions, which are the sounds that are generated by vibrations in the middle ear (as opposed to tinnitus).
Suzanne is currently Professor and Chair of Music at Hunter College after 10 years leading the Composition Department at the Conservatory of Music at Purchase College, S.U.N.Y. She holds a doctorate in composition from Yale University. Corpo di Terra (New Focus Recordings) is devoted entirely to her music, which may also be heard on the VAI, Signum Classics, Tundra and Albany Records labels.
For further information about Prof. Farrin, please go to http://suzannefarrin.com