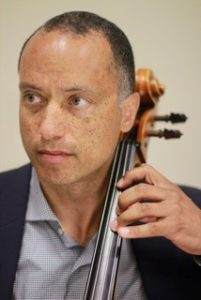 Email: pewell@hunter.cuny.edu
Office: Room 527 Hunter North
Phone: 212-396-6253
Fall 2017 Office Hours: on sabbatical 2017-18
Philip Ewell received a B.A. in music from Stanford University, an M.A. in cello performance from Queens College (New York), and a certificate in cello performance from the St. Petersburg Conservatory of Music in Russia, before embarking on doctoral studies at Yale University in music theory. His dissertation, advised by Allen Forte, focused on the music of Alexander Scriabin and included archival work in Moscow, Russia, and studies at the Moscow Conservatory with Yuri Kholopov.
Philip's specialties include Russian music and music theory, twentieth-century music, twentieth-century modal theory, and rap and hiphop music. He has writings published in Music Theory Online, Indiana Theory Review, Journal of Schenkerian Studies, and Popular Music, among other journals. He was the founding editor of Gamut, the online journal of the Music Theory Society of the Mid-Atlantic, and served as the chair of the Committee on Diversity of the Society for Music Theory from 2007 to 2010. In addition to his North American appearances, Philip has given papers at international conferences in Germany, Greece, Ireland, Italy, and the United Kingdom.
An active cellist and chamber musician, he is at home as both a classical and a contemporary musician, playing either his acoustic or his 5-string electric cello. He has concertized in North America, Europe, and Asia, and has played under the baton of such luminaries as Gustav Meier and Pierre Boulez, in master classes for Janos Starker and Glenn Dicterow, and in backup bands for artists such as Johnny Mathis and Stan Getz. His primary cello teachers have been Stephen Harrison, Frederick Zlotkin, Barbara Mallow, and Anatoly Nikitine. Philip began an appointment as Assistant Professor of Music Theory at Hunter College CUNY in the fall of 2009, and in the spring of 2010 he began a joint appointment with the CUNY Graduate Center.
For more information about Philip, go to philipewell.com.