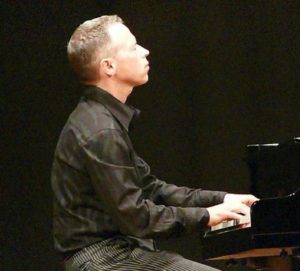 Email: geoffrey.burleson@hunter.cuny.edu
Office: Room 400h Hunter North 
Phone: 212-772-4023
Fall 2017 Office Hours: Wednesdays 3:00–5:00pm
Geoffrey Burleson, Professor of Music and Director of Piano Studies at Hunter College, has performed to wide acclaim throughout Europe and North America, and is equally active as a recitalist, concerto soloist, chamber musician and jazz performer. The New York Times has hailed his solo performances as "vibrant" and "compelling", and has praised his "command, projection of rhapsodic qualities without loss of rhythmic vigor, and appropriate sense of spontaneity and fetching colors".   And the Boston Globe refers to Mr. Burleson as a "remarkable pianist" and "a first-class instrumental presence" whose performances are "outright thrilling."   His numerous acclaimed solo appearances include prominent venues in Paris (at the Église St-Merri), New York, Rome (American Academy), Athens (Mitropoulos Hall), Mexico City (National Museum of Art), Rotterdam (De Doelen), Chicago (Dame Myra Hess Memorial Series), Boston, Washington, Switzerland, England, Spain, and elsewhere.   He has also appeared as soloist in many international festivals, including the Bard Music Festival, Monadnock Music Festival, Santander Festival (Spain), the Talloires International Festival (France), the International Keyboard Institute & Festival (New York), and the Interharmony International Music Festival (Italy).
Mr. Burleson made his New York City solo recital debut at Merkin Hall in 2000, sponsored by the League of Composers/ISCM. Concerto appearances include the Buffalo Philharmonic, New England Philharmonic, Boston Musica Viva, Pioneer Valley Symphony, Arlington Philharmonic, and the Holland Symfonia in the Netherlands, with repertoire ranging from Mozart, Weber and Saint-Saëns to Gershwin, Yehudi Wyner, David Rakowski and Klaas de Vries.   Mr. Burleson is a core member of the American Modern Ensemble, Boston Musica Viva, Tribeca New Music, David Sanford's Pittsburgh Collective. Recent touring projects include "Akoka: Messiaen Remix", a CD and program featuring Messiaen's Quartet for the End of Time, and including new works commenting on it by David Krakauer and DJ Socalled, with David Krakauer, clarinet; Matt Haimovitz, cello; and Todd Reynolds, violin. Via the "Akoka" CD, Burleson was nominated for a 2015 Juno Award for Classical Album Of The Year. Burleson also performs with IMPetus, an avant-cabaret trio with vocalist Maria Tegzes and guitarist David "Knife" Fabris, and Princeton University's Richardson Chamber Players. As a jazz pianist, Mr. Burleson has performed extensively at home and abroad, both as soloist and in many ensembles.   The Boston Globe has lauded his jazz performances, praising his "solos filled with complex harmonic and rhythmic figures", as well as his "compact and dramatic" arrangements of works by such diverse artists as Eric Dolphy and Patti Smith.
A laureate of the International Piano Recording Competition (Silver Medal), and the Vienna Modern Masters International Performers' Competition, Mr. Burleson was also the recipient of a DAAD Grant from the German government to support a residency at the Academy of Arts in Berlin.  A graduate of the Peabody Conservatory, New England Conservatory, and Stony Brook University (D.M.A.), his principal teachers include Gilbert Kalish, Leonard Shure, Veronica Jochum, Lillian Freundlich, and Tinka Knopf.
Currently, Mr. Burleson is recording the complete piano works of Camille Saint-Saëns, being released on 5 CD volumes on the new Naxos Grand Piano label. Saint-Saëns: Complete Piano Works 1: Complete Piano Études, the inaugural release on the new label, Saint-Saëns: Complete Piano Works 2, and Character Pieces (Vol. 3) were all released in 2012, and Saint-Saëns: Complete Piano Works 4: Dances & Souvenirs was released in February 2016. The series has received high international acclaim from Gramophone, International Record Review, Diapason (France) and elsewhere, and has garnered International Piano Choice Awards from International Piano Magazine.   Other solo releases include Roy Harris-Complete Piano Music (Naxos), and Vincent Persichetti: Complete Piano Sonatas (New World Records), a 2-CD set on which all twelve of Persichetti's piano sonatas are united on one release for the first time.        The Persichetti recording was accorded high acclaim from the BBC Music Magazine ("BBC Music Choice"; 5/5 stars), a laudatory feature review in Gramophone, and was listed among the best recordings released in 2008 by Fanfare and the American Record Guide. His extensive chamber music discography includes Odd Couple (Oxingale Records), a duo CD of American works with cellist Matt Haimovitz, featuring the Barber and Carter Sonatas, as well as newer works by David Sanford and Augusta Read Thomas.
Mr. Burleson also teaches piano at Princeton University, and is on the piano faculties of The Graduate Center of the City University of New York, the International Keyboard Institute & Festival (New York), and the Interharmony International Music Festival (Italy).
For further information about Prof. Burleson's concert schedule, recordings, and for links to audio files and concert videos, please go to http://geoffreyburleson.com.