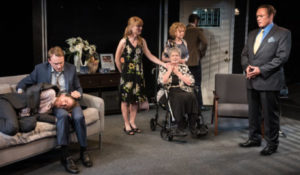 Dewey Moss, Hunter College alumnus and writer of the critically acclaimed Death of the Persian Prince, has found great success in the opening of his new award-winning play, The Crusade of Connor Stephens, at the Jerry Orbach Theater on Broadway. The cast features James Kiberd of All My Children, Ben Curtis of We Are the Hartmans, with Julie Campbell, Kathleen Huber, Katherine Leask, Jacques Mitchell, Clifton Samuels, and Alec Shaw.  Tony Winner, Emmy Winner, and American Theater Hall of Fame Inductee Jane Alexander was in attendance at the New York City premiere.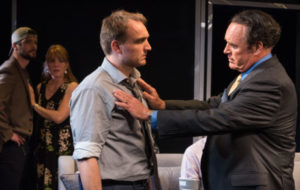 The Crusade of Connor Stephens deals with the timely and controversial topics of gun violence, LGBTQ rights, and religious intolerance in a small Texas town.  The piece has been met with glowing reviews and critical acclaim.  Deb Miller of D.C. METRO THEATER ARTS hails the play as "a powerful examination of important issues that plague our society" with a "compelling cast".  David Roberts of ONSTAGE/THEATER REVIEWS LTD raves that it "explodes across the stage with a gripping emotional force…" and states that "The Crusade of Connor Stephens could not be more relevant in the current climate of gun violence in the United States and in the face of the looming anti-LGBTQ platform."  Ethan Kanfer of NEW YORK THEATER REVIEWS also praises the new work, claiming that it "eschews easy answers and ripped-from-the-headlines relevance in favor of a more challenging exploration of clashing ideologies…" and that "Moss treats all perspectives with equal compassion, and shows that both sides can sometimes be guilty of finger- pointing."
The piece has won seven MITF NYC Awards, including Outstanding Production, Best Director, Best Actor, Best Actress, Best Supporting Actor, Best Supporting Actress, and Best Play.
The Crusade of Connor Stephens plays at the Jerry Orbach Theater in the Theater Center – 210 West 50th Street, NYC.  For tickets, call (877) 250-2929, or purchase them online.