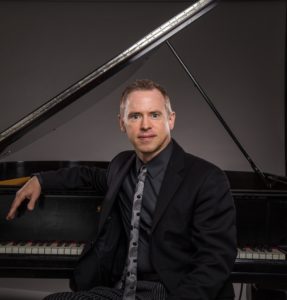 From June 28th – July 1st, Prof. Geoffrey Burleson will be at the EuroMAC 9 Conference (The 9th European Music Analysis Conference) in Strasbourg, France, to offer a presentation on Proto-Impressionism in Piano Music on Camille Saint-Saëns.  The conference, which takes place every two years, is organized by the University of Strasbourg's GRÉAM Research Center, the French Society for Music Analysis, and the Institute for Musicological Research in Paris.  The presentation is connected both to a book chapter that Prof. Burleson is writing for "The Many Faces of Camille Saint-Saëns", to be published by Brepols in Belgium in 2018, and his ongoing solo CD series of the complete piano works of Saint-Saëns for the Naxos Grand Piano label, with four volumes released thus far.
For more information about Prof. Burleson's presentation, click here, and for more information about the EuroMAC9 conference, click here.
From July 6th – 17th , Prof. Burleson will be an artist faculty member at the InterHarmony International Music Festival in Acqui Terme, Italy.  He will be a featured soloist in two concerts in the festival; additionally, five current and former Hunter music majors (Sarah Dutcher, Rexa Han, Michelle Kalisz, Sarah Sebaoun and Rob Wendt) will be attending as students.  For more information about the festival, click here.
From July 16th – 30th, The International Keyboard Institute & Festival will once again be taking place at Hunter College.  At Mannes College for its first 16 years, the IKIF moved to Hunter College in 2015, and is now in its 19th season.  Prof. Burleson will once again be on the faculty, and will also perform on the Masters Series in the Kaye Playhouse.  He will be performing a solo recital on July 25th.  For more information, including links to video presentations of all Masters Series concerts from previous editions of the festival, click here.
Finally, Prof. Burleson will be a guest artist at the Music Mountain Festival in Connecticut on August 6th, performing César Franck's Piano Quintet in D Minor with the Aeolus String Quartet.  For more information, click here.