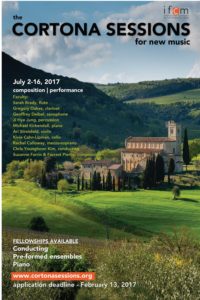 Congratulations to Hunter College M.A. Composition student Forrest Tang, who will be traveling to Cortona, Italy this summer to participate in the Cortona Sessions for New Music!  This prestigious festival lasts for two weeks from July 2nd to July 16th, and features a collaborative gathering of composers, performers, and conductors in the scenic Italian countryside.
The Cortona Sessions is "[o]ne of the world's premiere educational programs dedicated to the creation and performance of contemporary music, [and] a destination for emerging composers and performers seeking to collaborate, learn, grow, and create. The Sessions provide participants with an inspiring and supportive environment in which new music is explored in all its shapes, sizes, and colors. Overflowing with la dolce vita, the Cortona Sessions offers participants a life-changing two weeks under the Tuscan sun."
For more details, please visit http://www.cortonasessions.org/.