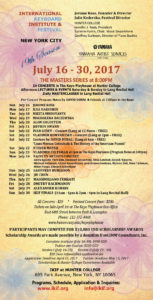 This summer, the International Keyboard Institute & Festival will once again be taking place at Hunter College. At Mannes College for its first 16 years, the IKIF moved to Hunter College in 2015, and is now in its 19th season. Profs. Geoffrey Burleson and Quynh Nguyen will once again be on the faculty, and will also perform on the Masters Series in the Kaye Playhouse.  Prof. Burleson will be performing a solo recital on July 25th, and Prof. Nguyen will be performing on the Faculty Artist Concert, taking place on July 24th.   Other artist faculty members this summer include Vladimir Feltsman, Jerome Rose, Alexander Kobrin, and Jeffrey Swann.
The IKIF takes place from July 16-30!  Please check out the website for Faculty Artists, Application, Schedule, Tuition, the IKIF Competition, and more.
A limited number of full scholarships are available to current Hunter College piano majors, and current Hunter students have opportunities for free or half price tickets to Masters Series events in the Kaye.
For more information, including links to video presentations of all Masters Series concerts from previous editions of the festival, please go to ikif.org